Wacky Races #1 and #2
Rock and Gravel Slag are twin cavemen driving a wheeled boulder, the Bouldermobile. They can accelerate by hitting the car (or at times, each other) with their clubs. The Slag Brothers sometimes reconstructed their car from scratch just by using their clubs on any large boulder that was available. Like the Gruesome Twosome, the Slag Brothers can summon up appropriate creatures such as pteranodons to help them.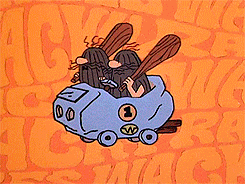 Big Gruesome – a lurching, huge humaniod Frankenstein's monster-type character – and Little Gruesome – a purple-skinned vampire – are monsters driving the number 2 car, The Creepy Coupe.
(Visited 1 times, 1 visits today)