1961 Corvair 95 Rampside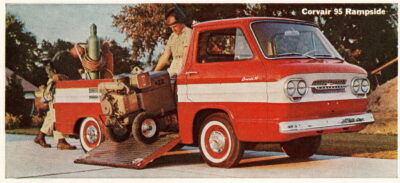 Are you ready to hit the road in style? The 1961 Corvair 95 Rampside is the perfect companion for your nostalgic adventures. With its striking two-tone paint job, iconic wraparound rear window, and distinctive Rampside design, this vehicle exudes retro coolness. Whether you're cruising along the coast or exploring the countryside, this classic Corvair promises a trip filled with endless fun and memorable moments.
The Corvair 95 Rampside was a pioneer of its time, sporting revolutionary features that set it apart from its contemporaries. Its most distinctive feature is the innovative ramp on the passenger side of the vehicle, allowing for easy loading and unloading of cargo. With a payload capacity of up to 950 pounds, this utility truck was perfect for small business owners, adventurous families, or anyone in need of a practical yet stylish ride.
But it's not just about functionality—the Corvair 95 Rampside also delivers a smooth and enjoyable driving experience. Its rear-mounted air-cooled six-cylinder engine provides ample power and a distinctive engine note that will have you grinning from ear to ear. The responsive handling and compact size of this vehicle make it a joy to maneuver through city streets or tackle winding roads. Get ready to turn heads and receive compliments wherever you go!
The 1961 Corvair 95 Rampside is more than just a vintage vehicle; it's a gateway to an era of groovy adventures and carefree road trips. From its unique design to its practicality and exhilarating driving experience, this classic beauty has stood the test of time. So, grab your shades, roll down the windows, and let the Corvair Rampside transport you back to the swinging sixties—where the possibilities were endless and the journey was always as thrilling as the destination.
Whether you're a collector, a vintage car enthusiast, or simply someone who appreciates the timeless appeal of the Corvair Rampside, this retro road trip is one you won't want to miss. So what are you waiting for? Get behind the wheel of this iconic beauty and let the good vibes flow as you cruise through the streets, spreading nostalgia and smiles wherever you go. The 1961 Corvair 95 Rampside is ready to revive the groovy glory of the past and bring it roaring into the present!
(Visited 2 times, 1 visits today)